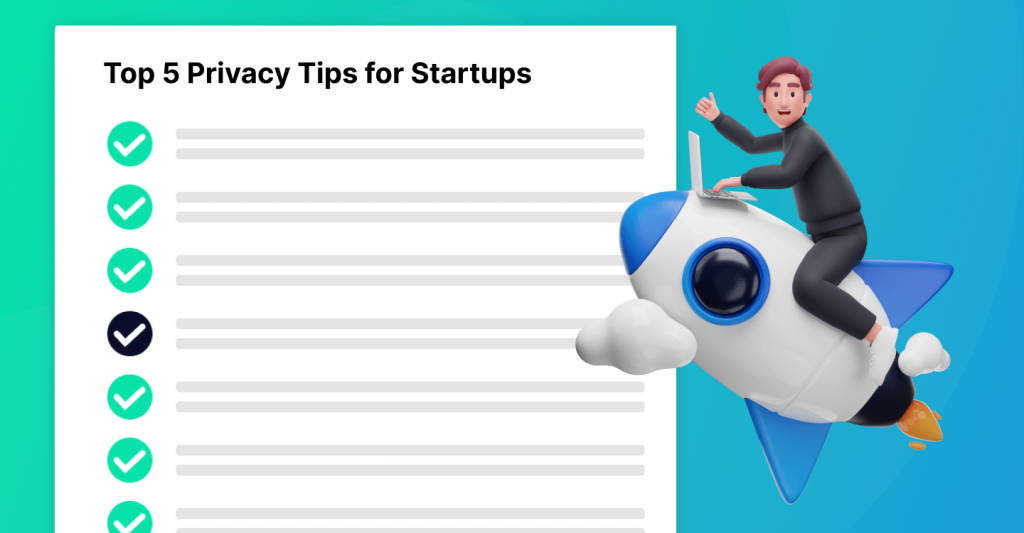 In today's world, your business needs to comply with data privacy regulations to stay competitive and maintain customers. Customers want to know that their personal information is safe and that companies do everything possible to keep their data secure.
Not protecting your data isn't just financially risky. It's also legally risky. Failure to properly protect information can quickly lead a small startup into a potentially devastating litigation, so don't let it happen to you. The cost of a privacy breach remedy typically averages a whopping 4.8 million dollars, which few can afford to deal with.
So, what's the solution? Monitoring and auditing data activities on an ongoing basis can help avoid potential legal and financial complications. But if you're not sure how to do this, don't stress! That's what we're here for.
To make protecting digital privacy easier, we've came up with a list of 5 easy-to-understand privacy to-do's for startups, and how Ubiscore can help with these crucial steps:
1. Get a Data Processing Agreement for AWS, Microsoft, Hubspot, Google, etc.
A data processing agreement (DPA) is a legal document between an organization and a customer that establishes the terms of how personal data will be used and protected. It's one of the cornerstones of privacy law, whether you're B2C or B2B. DPAs are now often standardized and easy to get on websites from your favorite service providers and vendors.
These agreements regulate how personal data is exchanged and how it's protected. Whether as part of an audit or DD form, chances are supervisory authorities or investors will want to see your agreement at some point. Also—if you work with a vendor whose parent company is based in the US, be sure to include "Standard Contractual Clause", which is basically a DPA for international data transfers. They are published by the EU-Commission and (should) always look the same.
Ubiscore can save time and make your life easier by detecting your relevant vendors and providing you with links to the important legal documentation.
2. Check Your Website for Illegal Tracking and Analytics to Avoid Fines
In the EU, consent is necessary for most tracking activities. Those include but are not limited to Google Analytics, Facebook Custom Audience, Salesforce, etc. A cookie banner can help get informed consent. However, you might be shocked to find out that many cookie banners are NOT correctly implemented, and they send data to third parties like Google & Facebook before the visitor even clicks "Agree". Thankfully, Ubiscore lets you freely scan your website to detect such risks.
3. Write an Easy-to-Understand Privacy Policy
A privacy policy or privacy notice tells users what you do with their data. Unfortunately, privacy policies are often written "by lawyers for lawyers", making them super challenging to understand for the average person. The whole purpose of privacy laws is transparency and fairness. And when users don't understand how you treat their data, that's neither transparent nor fair! Ubiscore's readability rating will let you know whether your privacy policy is actually understandable to everyone…or just lawyers, in which case you can consider updating it.
4. Create a Record of Processing Activities or Data Mapping for Your Organization
One of the most important documents of every privacy organization is a data mapping (CCPA) or record of processing activities (GDPR). These documents help you and your privacy and legal team better understand data flows, and map the relevant legal requirements to it. Don't forget your data security documentation and an overview of your vendors. Ubiscore gets relevant intelligence about your vendors and their security evidence—no matter if it's Slack or Microsoft 365, we've got you covered.
5. Answer Data Subject Access Requests
Sooner or later you'll receive questions from your customers about how you handle their data. It's their right to ask you this. And it's your responsibility to provide them answers. They'll also likely ask for a copy of their data. Legally speaking, you have 1 month to answer such inquiries, but a month seems a little long for good customer service, right? The good news is that Ubiscore can help you provide a fast privacy report with the click of a button! And if customers know that their personal information is safe, this will greatly help you increase trust, sales, and improve your customer retention rate. Did we mention that Ubiscore also gathers data about how fast organizations answer data subject requests?
We hope this guide was helpful. Thank you for reading and we wish you the best of luck with improving your company's privacy practices! Stay tuned for more helpful articles and tips about growing your business and earning trust through data-protection compliance.
Test your company's privacy practices, CLICK HERE to receive your instant privacy score now!