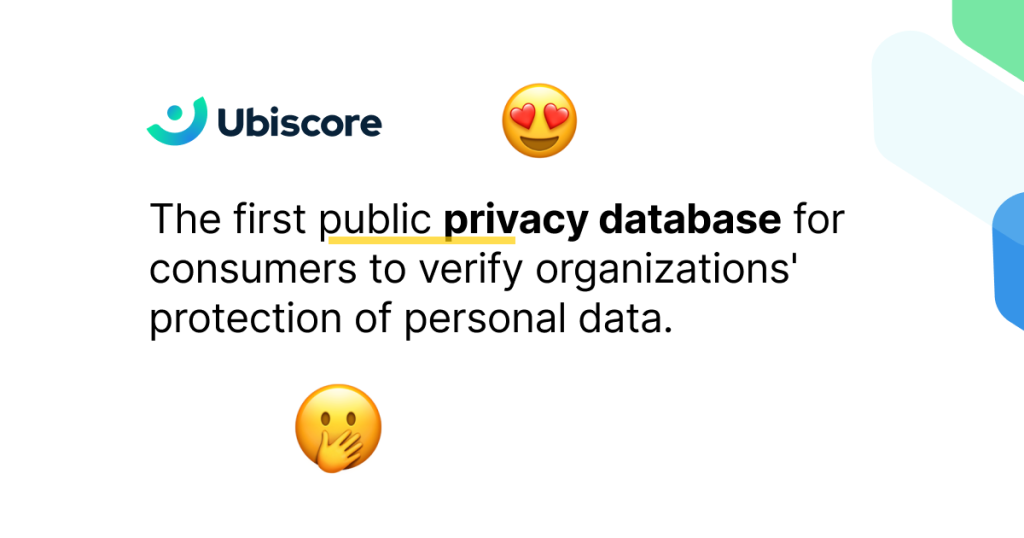 19 April, Berlin, Germany – Ubiscore, the world's first independent privacy score platform, has announced the launch of its public Privacy database where individuals can now learn how companies protect their data.  
Ubiscore began the rollout of its Privacy database with over 5,000 German startups, and soon the platform will be available for companies in the DACH region, Italy, and other GDPR area countries. This platform introduces a new way of reviewing businesses and enables users to check how they or their competitors are handling data protection. 
The platform provides completely independent ratings for companies with high scores and low scores. This allows individuals to make informed decisions when sharing their data with businesses. 
"We're thrilled to launch our Privacy database and provide individuals with a tool to evaluate the privacy practices of companies," said Frank Trautwein, Founder and CEO of Ubiscore. "Our platform is designed to promote transparency and accountability in data protection, and we believe that this will encourage companies to prioritize privacy in their operations." 
Ubiscore's platform utilizes a unique scoring system that evaluates a company's privacy practices based on four categories: domains, vendors, privacy, and security. This comprehensive approach ensures that companies are evaluated on their overall commitment to privacy. 
"We are proud to be the first platform to provide independent privacy scores for companies," said Alex Di Mango, Founder and CTO at Ubiscore. "We hope that our platform will encourage businesses to adopt best practices in data protection and provide individuals with greater confidence in sharing their data." 
Take a look at our Data base here: Explore page
About Ubiscore: 
Ubiscore was born in a world of increasing data breaches and missing transparency on how data is handled. Our platform focuses on enabling organizations worldwide make better decisions when it comes to handling their user data, while also helping them comply with privacy laws. Ubiscore is a leading provider of privacy ratings and privacy analytics for businesses. The company's mission is to help organizations of all sizes achieve their full potential by providing them with the tools and insights they need to understand and improve their privacy practices. 
Contact us at press@ubiscore.com or visit our company website at ubiscore.com